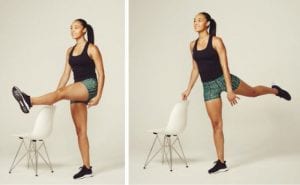 Let's get to it already! might be what you're thinking as you run in from work ready to burn off some stress – or drag through the door ready to get it over with. The warm up might seem unnecessary or redundant in this mindset. I challenge you to approach your workout and your warm up with a different mindset: peace, focus, and preparation.
I find that if a strain or sprain occurs, it's usually at the beginning of a workout. A lot of people run in from work after sitting in traffic anxious, annoyed, stressed, etc. The stress of the day (or thinking of the day ahead) sits on their shoulders and tightens their muscles. Tight, stressed muscles and joints are injured easily, and this is a reason why the warm up is extremely important to set the tone of the workout. Use your warm up as time to settle your mind and focus on being present in every movement.
During a warm up, you are also shifting blood flow to your muscles in order to enhance the delivery system of what they will need to perform your workout. Your blood carries special "packages" of nutrients and water that your muscle needs in order to contract and move your body. If the special packages haven't arrived when needed, your muscular system can't function properly and injury can occur. This can also happen if you're not getting the proper nutrients in your daily food intake (if there isn't enough in your system, it's certainly not being delivered), but that's another topic for another day!
Your warm up should be about 5-10 minutes long. It takes longer to warm up the body with age and in cold temperatures, so also take those variables into consideration. Your warm up should consist of exercises or movements that you are already familiar with – this is not the time to do new and crazy things. This is 5-10 minutes for your mind and body to connect. This is a time to shift blood flow to the areas you will need it and move your joints through full range of motion after they've been stiff all day/night. This is a time for you to leave your problems at the door and "check in" to your workout. Never skip your warm up!