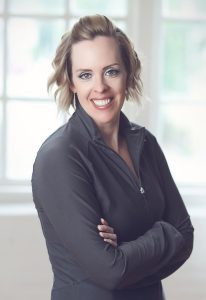 Ashley Brodeur, MS, CSCS
Owner, Active Lifestyle Fitness, LLC
Ashley is an Exercise Physiologist and has been certified as a Personal Trainer since 2002. In 2012, she opened Active Lifestyle Fitness bringing on a team of wonderful instructors. She specializes in women's health, strengthening post-physical therapy and injury prevention. You are not just a number in a queue of clients when you work with Ashley. You are a friend and colleague as you work together to develop and execute a plan personalized to your needs and goals. Ashley's leadership and guidance during (and between) sessions will help you feel secure in knowing you're not alone on your journey. Check out our blog for recipes and articles Ashley has written!
Current Credentials:
Master of Science in Exercise Physiology, Springfield College
NSCA Strength & Conditioning Specialist
Fascial Stretch Specialist L3
Reiki Master
Certified Aerial Yoga Instructor
YMCA Pilates Instructor
Email Ashley: ashley@activelifestylefitness.com
Nicki Bourassa, Group Fitness Instructor
A passion for health and fitness inspired Nicki to help others achieve their goals. She is an AFAA Certified Group Fitness Instructor and leads with humor and compassion while providing encouragement to reach your potential!
Chris Schicker, Group Fitness Instructor
Chris is a WITS Certified Personal Trainer and long-time member of Active Lifestyle Fitness herself! She believes in fitness as a lifestyle and enjoys instructing a wide range of classes from Boot Camps to working with seniors on gaining mobility. She puts special focus on exercises for functional movement in all of her workouts!
Nicole Provenzano, Yoga Instructor
Nicole (E-RYT 200, RYT 500), is a Certified Aerial Yoga Instructor, Reiki Master and a Thai Yoga Level 2 Practitioner. Nicole is a teacher who offers a creative space exploring natural concepts through a foundational Vinyasa practice. She believes that yoga offers a wealth of benefits that is accessible to everyone.
Renae Tapply, Barre Instructor
Renae is a Certified Booty Barre Instructor. Also a culinary arts professional and nutrition enthusiast, she spends her days baking and decorating delicious desserts and keeps herself in great shape at the barre with us!
Anne Marie Foisy, Barre Instructor
A passion for teaching not only led Anne Marie to become a barre instructor but also to earn a Master in the Arts of Teaching degree. She enjoys bringing something new and challenging to each of her classes. She believes the greatest transformation can stem from pushing yourself while having fun in a safe and welcoming space.
Sara Averill, Cycling Instructor
Sara first started teaching fitness in 2002 and holds certifications in Spinning, TRX, Piyo, P90x, Insanity, Booty Barre, AFAA Group Fitness and Personal Trainer. It is important to her that her participants learn proper form and technique so they get the most out of class, as well as creating a community where all members can feel successful.