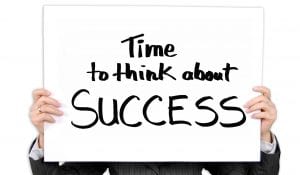 What is success? Long-term success means different things to different people, but I will share what my idea of fitness success looks like.
A measurable form of fitness success is that you've achieved a reasonable goal and maintained it for at least a year. I hate to break this to you, but maintenance can be the most challenging part of your fitness journey. Maintaining your results is truly believing that you deserve to feel great. It is making the conscious decision not abuse your body with food and inactivity (or excessive exercise) when you're feeling upset or stressed. Success is that your physical and mental health are at the top of your priority list.
Success is continuing on your journey with contentment and not beating yourself up over the small stuff. Nobody feels motivated to exercise every day all the time. We all experience those cold, rainy days when you're snuggled up on the couch or in bed and nothing in the world feels better. Or work has been wearing you down and all you want is to put on your pjs and binge watch tv. Whether or not you take that day off is irrelevant. One day off is not going to make or break your journey. It's whether or not you get back on track tomorrow and the next day that will define your success.
Success is also not being terrified to go off track for fear of never making it back. While you should not allow peer pressure to determine whether or not you go off of your program, you should be able to deviate every once in a while if you choose to do so. Success is having the confidence that you can go off plan for a brief period of time and be able to come back and continue on your journey with focus and strength. Going off course should be a planned deviation entirely by your choice and entirely under your control.
Success is not allowing external influences to derail you. Whether you have kids, pets, work in an office, work from home, spouse, travel, we all have excuses and reasons to not exercise or eat well. We all have social events with great food and friends that push alcoholic drinks making it difficult to not over indulge. The difference between individuals that are successful on their fitness journeys and those that are not is a decision to stay the course. Repetitive decisions to stay committed slowly become second nature. Second nature then becomes a lifestyle. Choose to be successful, and you will be 🙂
Ashley Brodeur, MS, CPT
Owner, Active Lifestyle Fitness, LLC