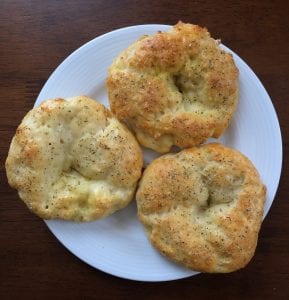 Ingredients:
1c Fat Free Plain Greek Yogurt
1c Self Rising Flour
1 egg (for egg wash)
Seasoning of choice
Directions:
1) Pre-heat oven to 350 degrees.
2) Mix yogurt and flour in a bowl until dough forms.
3) Coat surface with a sprinkle of flour, separate dough into 4 segments, and roll each segment into 5-6″ snake.
4) Cover baking sheet with parchment paper and create 4 circles with dough.
5) Brush tops of each bagel with egg wash and sprinkle with seasoning.
6) Bake 23-25 minutes.
Calories: 130
Carb: 24
Fat: 0
Protein: 8