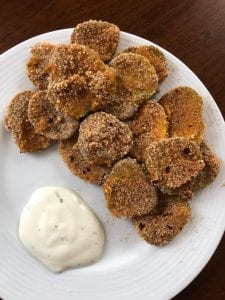 Ingredients:
1 egg
1/8c buffalo sauce
2c rice chex
1/2tsp garlic powder
1/2tsp paprika
1/2tsp black pepper
1/2tsp crushed red pepper
1 jar (16oz) dill pickle chips (drained)
Bolthouse Yogurt Ranch or Blue Cheese Dressing
1) In a small bowl, whisk together egg and buffalo sauce
2) Place rice chex, garlic powder, paprika, black pepper, and red pepper in food processor. Process until a fine crumb mixture forms, then place in another small bowl.
3) Dip pickle chips in buffalo egg mixture, then cover in seasoned rice chex mix.
4) Place covered pickle chips on wire rack on top of baking sheet (or directly on baking sheet if no wire rack).
5) Broil on low on middle shelf of oven 8-10 minutes.
6) Serve warm with dressing for dipping.
Total Calories: 280 (not counting dressing)