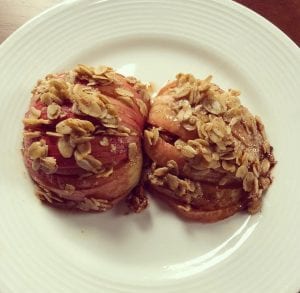 Ingredients:
6 large baking apples, halved vertically and cored
12tbsp butter
2tbsp cinnamon
3tbsp baking truvia
2/3c old fashioned rolled oats
Directions:
– Preheat oven to 350 degrees and line a baking sheet with parchment paper. Place apples flat side down and create thin slices with paring knife 3/4 way through the apple.
– Brush apple tops with melted butter and sprinkle with truvia.
– Bake 25 minutes.
– Remove from oven and spoon remaining mixture into apple slits.
– Bake 10 minutes.
– Top with Halo Top Vanilla ice cream as desired.