Low Calorie Cinnamon Kodiak Cakes Muffins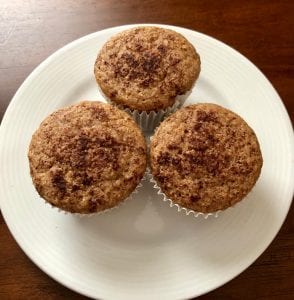 Ingredients
2c Kodiak Cakes Buttermilk Mix
1/4tsp salt
1/2tsp baking powder
2tsp cinnamon
1/2c maple syrup (I used SweetLeaf Stevia Syrup Maple)
1/2c baking Truvia (Only if you aren't using regular maple syrup!)
2 large egg whites
1c unsweetened almond milk
1tsp vanilla
Topping:
1tsp cinnamon
1 Truvia or Stevia packet
Directions
1) Preheat oven to 350 degrees and line muffin pan with parchment paper muffin cups.
2) In a large bowl, mix together the muffin ingredients until a batter has formed.
3) Evenly pour batter into each muffin cup.
4) Sprinkle topping over each muffin cup.
5) Bake for 17 minutes, or until the muffins are firm and inserted toothpick comes out clean.
6) Let cool for a few minutes, then remove from pan to continue cooling on a rack.
Nutrition (for small muffin; 12 muffin pan):
Calories: 80, Fat: 1, Carb: 13, Fiber: 2, Sugar: 1, Protein: 5