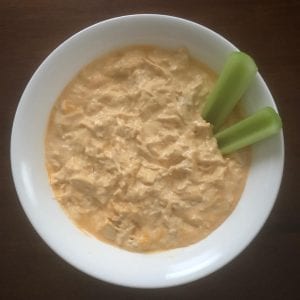 Ingredients:
2 large shredded chicken breasts
8oz Neufchâtel cheese
1/2c plain Greek yogurt
1/2c hot sauce
Directions:
To shred chicken: put a coating of hot sauce on the bottom of a crock pot, put chicken breasts in, add another coating of hot sauce on top, leave for 3 hours on high. Shred with a fork and drain remaining liquid.
Mix all ingredients together and bake on 350 for 20 min.
For 1/6 dip:
Calories: 170, Fat: 8.5, Carbs: 4, Protein: 19